Welcome to the BMG releases! As we all know, BMG and RCA are the main contributers to marketing Elvis' music. They have gone from being a wonderful zest for fans to also being a big question mark for fans. Nevertheless they have released good material and continue to. Here we will have the newest of the new for you! The catelog of material is so big, we can only give you new releases and reviews!
___________________________________________
Great Great Collection. We would have a bigger review but there is no room!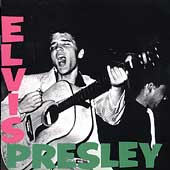 This is a wonderful single. And as we all know, it has become a huge hit. JXL, a DJ out of Europe remixed this great Elvis classic. Here are the three songs available and their form:
The original song appeared in the movie: 'Live A Little, Love A Little'. Elvis sings it to co-star Celeste Yarnall. She has conducted an interview here at the Tribune. To visit is and hear about Elvis, go to The Latest and click on interviews.
_________________________________________
This is the upcoming big album of the year. The 30 Number 1 Hits is the complete collection of Elvis' number 1 or 2 hits in either the USA or U.K. We will have a review as soon as possible. It is avaialble for pre-order and you can visit their site:
www.elvisnumberones.com
! It will be released September 24th 2002! Here is a supposed track list from Elvis World Japan!
Heartbreak Hotel - Don't Be Cruel - Hound Dog - Love Me Tender - Too Much - All Shook Up - Teddy Bear - Jailhouse Rock - Don't - Hard Headed Woman - One Night - I Need Your Love Tonight (A Fool Such As I) - A Big Hunk O' Love - Stuck On You - It's Now Or Never -Are You Lonesome Tonight - Wooden Heart - Surrender -His Latest Flame (Little Sister) - Can't Help Falling In Love - Good Luck Charm - She's Not You - Return To Sender - Devil In Disguise - Crying In The Chapel - In The Ghetto - Suspicious Minds - The Wonder Of You - Burning Love - Way Down - A Little Less Conversation
_______________________________________________________
Review soon, this is a compilation of Louisiana Hayride material!