Welcome to Elvis Week Stories!
I attended Elvis Week for four days and had a lot of fun expirences! Here is my day to day activities as to what I did and who I met including the information I learned. I had two 'spotlight moments' in which 1) I was named one of the 'Ultimate Elvis Fans' in my city paper on August 16th (see right). 2) I was interviewed on the Elvis Week 'VigilCast'! (
View
)
My Elvis Week 2002 Day By Day!
Tuesday, August 13:
I arrived late the prior night and prepared to head to Graceland for shopping! On Wed. we decided we'd go through Graceland so today my mother and I stopped off to shop for most of the day, get that out of the way, lol. I attended a lecture by Ernst Jorgensen who was over viewing Follow That Dream future releases and answering fan questions. I got the oppurtunity to meet and grab a quick photo which you can find on Insiders!
View
Wednesday, August 14:
On Wednesday we went to Graceland and where on one of the first trips up to the mansion. The ideal plan was to be in and out because I had a Collector Club meeting to attend. We saw all the sites, and the newest attraction the extra added room! Zipped through the planes and stopped off at the cars, musuem, and theater (
View
). A great day and we were off to The Peabody by late afternoon for the meeting! By the time the meeting began I had caught up with one of the Sweet Inspirations in the lobby, see Insiders, and wished my parents a great afternoon as the meeting only allowed Collector Club members. After a wonderful meeting all of the members got a chance to meet each other and look at some rare Elvis merchandise from the Graceland archives. We also had a contest in which many left over press releases of ELV1S was given out to us, a rare collectible(
View
)! Before leaving the hotel I got the autographs of, Charlie Hodge, Joe Esposito, and DJ Fontana (
View
)!
Thursday, August 15:
A long day was ahead! After haning around in dowtown Memphis for a little while we stopped of at 'Humes Middle School' which was 'Humes High School' where Elvis attened High School. They have a small tour that takes you through the auditorium where Elvis performed for a school talent show and to their 'Elvis Room' where Elvis once had a class that is now dedicated to his memory. Lot's of fun stuff to find there but some of what the tour guide had to say seemed a little of in the Elvis History book! (
View
) After that we went to 'Conversations on Elvis' downtown where: Larry Geller, Joe Esposito, Charlie Hodge and Patti Perry all discussed their life with Elvis and also answered fan questions. After it was over I grabed a few photos.(
View
) I checked out the University of Memphis to kill some time and also to please my interest in going to college there afterwards. And then it was on to Graceland. I had been chosen to be interviewed on the VigilCast 2002! I met up with an EPE official who began escorting me to the lawn of Graceland when a major thunderstorm hit the area. People where going everywhere to get some shelter, and some die hard fans got my appualse for staking out in the rain! After it slowed down and power had been restored to the Vigilcast, interviews and the vigil itself began! (
View
) A very quite time with inspirational Elvis music playing! I conducted my interview and also met some Elvis Insiders and other fans, then got in line and walked the drive way to tell Elvis goodbye, 25 years later. A very emotional experince when you idolize someone so much! (
View
)That was the evening, long but very much something I'll never trade for the world!
Friday, August 16:
So now it has officially been 25 years since Elvis' death. Rather than stay all day in Memphis with the massive crowd that had formed around Graceland and others who were leaving from their 'all-nighter's' at the gates of Graceland and along Elvis Presley Blvd., my family and I headed for Tunica, MS to visit with my Grandmother(down from Milwaukee), Aunts (Cornelia and Sue) and the Patterson Family, our cousins from Georgia! We had a wonderful afternoon telling them all about the evening before! We returned to Memphis and had dinner that evening near Beale Street and then made our way to The Pyramid Arena for 'Elvis: 25th Anniversary Concert' in the few hours that the concert proceeded it was one of the funnest experinces of the whole trip! I have some great pictures from our seats on the 25th Anniversary Concert page. (
View
) After the wonderful concert that included a two set show, the first almost like a documentary on Elvis' carrer to the 70's. I think the coolest part was when they showed Elvis singing 'Come On Everybody', everyone in the arena participated in the song! The second set was just like a real Elvis concert of the 70's. It included his best hits and the very powerful 'American Trilogy' which also sparked fans to rise to their feet and sing along, cry along too! And that was it!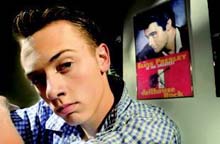 Elvis Forever: 'The King and I'!
Michael Seyfert- Teen Fan!
The fan: Seyfert, a 16-year-old junior at Coronado High School, was born nine years after Elvis' death.
The appeal: When he was 3 years old, his parents rented an old video of "Jailhouse Rock." "He was so rebellious, and the women were all over him. He represented coolness and I thought he was awesome. I had no idea he had been the world's greatest entertainer, a musical legend, all I knew was that he was cool."
The collection: 17 posters, 15 books, 33 movies, cardboard life-sized standup figures, 31 CDs, 22 tapes, six T-shirts, 12 tin boxes, games, pins, pens, stamps and many other assorted other collectibles.
Etc.: Belongs to three fan clubs; has established a Web site, "The Elvis Presley Tribune," where he can exchange Elvis information with other fans; two trips to Graceland, including one with his mother this week.
On the hardships of being a young fan: "I have not always expressed my devotion to the King! ... I feel in today's world, if you are honest with it, especially with high school students, you get picked on a lot. ... I've been laughed at, had rude things said to me and so on. I have, however, in recent months, been able to tell people all the time not caring who (Elvis fans are the best, and I'm one of them)."
Ambition: To write for an Elvis magazine or even be CEO of Elvis Presley Enterprises - after attending college at (where else?) Memphis University, to be near Graceland.
This information came from 'The Gazette Telegraph', it was printed August 16th 2002. Picture taken by Tim Tadder.
__________________________________