Lisa Marie On Television!
Lisa Marie has been heavily promoting her new album, "To Whom It May Concern'. She has laready done in-depth interviews on ABC, CNN and Dave Lettermen and Jay Leno! She will be continuing her appearances on television as well as a few documentaries, Driven on VH1 and E! continues to show her True Hollywood Story! And VH1 is still heavily playing her video for 'Lights Out'. The album began it's success at number 5 on the Billboard charts! She has also been featured on the most recent issue of Rolling Stone Magazine! Lisa is planning a Europe tour and United States tour that will also feature someone, as Larry King put it, "very famous as well".

May 9
Performance.
AOL Sessions
May 6
Divas Duets
May 22 is first airdate, live from Las Vegas.
Performance. The 2003 edition of VH-1's
Divas
specials.
Driven
June 1 is first airdate.
Repeats throughout the month of June.
Today Show
June 20
Lisa will be performing for NBC's
Today Show Summer Concert Series
.
Source of Update: Elvis.com 5/5/03
_________________________________________
New Elvis Commercial!

New York, NY February 6, 2002 - The King of Rock and Roll Elvis Presley shakes up the NBA on February 9th in a new NBA Entertainment-produced television spot as part of the NBAs Love it Live campaign. The spot, which features Presley performing his classic All Shook Up, will debut during the NBA All-Star Game to be televised on TNT (8:00 p.m./ET).

The :30 spot, which will run throughout the NBA season, combines video images of Presley singing his 1957 #1 hit single All Shook Up from the famous 1968 Comeback Special, interspersed with NBA game action footage, NBA dancers, and highlights featuring the New Jersey Nets Jason Richardson, the Sacramento Kings Vlade Divac and Peja Stojakovic and the Phoenix Suns Amare Stoudamire grooving to Presleys hit.

Elvis.com (2/6/03)

______________________________________________________
Tribune: Words On The Future!
by: Mike Seyfert
To Tribune Members and Viewers! In June 2003, and throughout the summer, The Elvis Presley Tribune will be going through a major change! We will become much more 'technological' this summer and will move from Tripod Site Builder to simply, ourself. We will be, by the end of the summer,
www.elvispresleytribune.com
! Currently, if your a frequent viewer, our site has not had many updates. That is due to the school year, things get hectic and planning time to get on and update things are difficult! The site is updated as of Spring Break 2003 and if you notice, some things are missing! I have taken off the following pages for simplicity but don't worry, a few of them will be returning. The 'Interview' section, has been taken off. It was using to much space and there have not been any new Elvis Insider Interviews recently. The interview with Elvis co-star, Celeste Yarnall, that I conducted this summer and future interviews will return to the site this summer when we move! Instead of interviews however, we will have E!Insider: 25 Q/A! Also, the 'Follow That Dream' section of the site was taken off. This will not be replaced unless the folks at FTD do not have their new web site up by August! 'The Sun Years' wasn't complete and didn't look like it was going to get there, it will not return but might be formulated into something new in August! We are no longer affilated with anyone so there is no more Fan Forum you may or may not notice in the navigation bar! And finally, on the 'Memories' page we had a link to Elvis Week, this has now moved to strictly being under the news section as 'Elvis Events'! Other minor changes and updates will be made throughout the spring but nothing major. We hope to get a product deal this summer with Amazon.com so we become an affilate of theirs and we can supply honest links for Elvis merchandise! Thank you for your patience through slow times and your further support of The Elvis Presley Tribune! Thank you! e-mail me at:
elvis_freak15@elvis.com
!
_________________________________________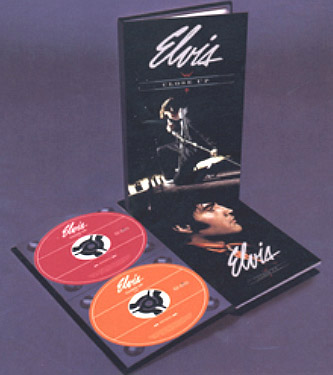 Boxset in July!
EPE Clears Up The Rumors:
ELVIS: CLOSE UP, a 4 CD/CS deluxe box set will hit stores on July 1, 2003. ELVIS: CLOSE UP features 89 previously unreleased tracks by the King of Rock 'n Roll and focuses on four important and key periods in Elvis Presley's incredible career. This box set provides a glimpse into Elvis' music making techniques, featuring rare stereo masters from the '50s and never-before heard outtakes from Elvis' first four post-army films. It also includes unreleased takes from almost every Studio B session in Nashville and a complete and unreleased live concert recorded in San Antonio, Texas in 1972. The 1972 concert includes a performance of the classic Burning Love before the studio single was released.

ELVIS: CLOSE UP features: deluxe 4-CD/CS box set of 100% previously unreleased material; 48-page booklet with insightful essay by Colin Escott, detailed track info and great rare photos; all tracks digitally remastered.

ELVIS: CLOSE UP is the follow-up to last year's critically acclaimed TODAY, TOMORROW & FOREVER boxset, which was voted Best Reissue of 2002 by Rolling Stone magazine and is approaching RIAA gold sales status.

Coming Later This Year...

ELVIS: 2ND TO NONE, a 1-CD/CS specially re-mastered compilation of Elvis hits and classics, is expected to be released on September 9, 2003. It is the follow-up to last year's global smash, ELV1S 30 #1 HITS, which hit #1 on the charts in 26 territories, earning gold and platinum awards around the world, including RIAA triple platinum in the United States.
ELVIS: CHRISTMAS PEACE, a 2-CD/CS compilation of Christmas and inspirational recordings, is expected to be released on September 23, 2003.
ELVIS LIVES on DVD: A 100-minute version of the TV Special Elvis Lives is to be released as a stand-alone DVD on October 21, 2003. Plans are for an abundance of previously unseen footage from the special, still photo gallery and extended interviews.
Source: Elvis.com 5/5/03
___________________________________________

Top 5: News Items of The Month:
1) Elvis is honored in Rolling Stone this month. The issue commemorates American Icons, in various aspects of popular culture. When defining music, Elvis was picked as the 'big-bang' (rightly so).
2) BMG will release two vinyl album collections that will feature five albums per box in their original format and cover. They will be called, Elvis: The Top Album Collection! Vol.1 and Vo.2
Top Album Collection - Vol.1 Elvis Presley, Elvis, Something For Everybody, Blue Hawaii and Elvis In Concert (2-LP Set).
Top Album Collection - Vol.2 Loving You, G.I. Blues, Roustabout, Aloha From Hawaii Via Satellite and Elvis' Christmas Album.
3) This month meant the first International Elvis Meet-up Day for fans across the globe. Over 500 cities and 2000 fans have signed up, my in Colorado Springs went great and I look forward to many more!
4) Ernst Jorgensen will stay with BMG for another 3 years. He recently signed his new contract. This means that the FTD Label and BMG will produce good Elvis products the next 3 years.
5) ElvisNews.com did live up to it's promise, it is currently holding a petition for the DVD: 'It Happened At The World's Fair' with already over 200 people signing it. Remember that the Tribune got this organized, so even if you don't want the DVD (your crazy then) please support our cause and put down your name!
www.elvisnews.com
!
__________________________________________